Downloadable Schedule of Events, and Vendor and Sponsorship information is now available on OMA's Oktoberfest page.
Oktoberfest 2016 t-shirts
Dachshund Derby
Sizes S–XL, $15 each. Sizes 2XL–4XL, $20 each.
Capitol Brewery Co.
Sizes S–XL, $15 each. Sizes 2XL–4XL, $20 each.
Keota Band to return to Oktoberfest 2016!
The Keota Band from Macon, Missouri,
will open Saturday Main Stage, 11am–2pm
We're excited to welcome Keota back to Oktoberfest 2016! They were a real crowd pleaser last year and are thrilled they can join us again this year. Keota was formed in 2007 with five longtime local musicians from the Macon, Missouri area. Their name is drawn from a nearly extinct settlement that lies west of Macon and a few miles from Bevier. This group of individuals would rather make music than anything else on earth. That passion is what drives the band to make the music experience of Keota as memorable and pleasurable for you as it is for them. Their style of music is best described as "eclectic." They love the sound of traditional acoustic instruments woven into songs that are not usually played acoustically, creating a sound that is unique to Keota. They play everything from folk, to country, to blues (yes, blues!), '70s songs, and more than a few original compositions.
Welcome Magnus to Oktoberfest 2016!
Magnus from Jefferson City, Missouri,
will play at the Saturday Main Stage, 3–6pm
We welcome Jefferson City's own Magnus band to Oktoberfest! Magnus plays a mix of cover and original tunes, incorporating the best of Classic Rock with their own pop and rock inspired original music.
Now Available!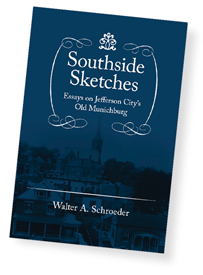 Southside Sketches: Essays on Jefferson City's Old Munichburg by Walter Schroeder
200 pages, paperback, $12
During his tenure as secretary of the Old Munichburg Association, Walter Schroeder "spiced up" his monthly mailings of the group's minutes with brief essays on the district's history. What began as a side project became a collection of essays illuminating the Southside's history of organizations and people, and of its very environment. At turns humorous, nostalgic, poignant, questioning—but always keenly insightful—these "sketches" draw upon personal memories as well as archival research.
Schroeder shares detailed recollections about life before air-conditioning, shopping at mom-and-pop groceries, using sales-tax tokens, and many other memories of his youth. Other stories came from interviews with his mother and other old-time Southside residents, who spoke of visits by gypsies, the time a steamboat managed to dock some six blocks south of the Missouri River, and explorations of the area's legendary tunnels and caves. Schroeder gleaned several other interesting tales from archival sources, including the German-language newspapers favored by the Southside immigrants—yet read by few today.
Books are now available at these Jefferson City businesses: Downtown Book & Toy, the ECCO Lounge, J Street Vintage, and the Schaefer House. Check back often, as we will be announcing book signings and other events as their details become final.
Become a member for 2016!
Click here to download a membership form you can fill out and mail to OMA with your check.